Can I design my own house to build? Absolutely, but not without some help, which may come in the form of a modified floor plan or specialized software.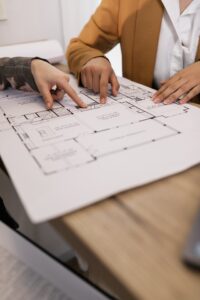 Designing your own home is an exciting opportunity that lets you bring your idea of the perfect space to life. When it's finally concluded, your space will perfectly suit your needs and lifestyle. But you may be wondering, "Can I design my own house to build?" The answer: yes. Whether you want a cute little hobbit hole or a sprawling Nashville mansion, your custom home builder can help take what's in your head and turn it into a home.
Design
Building your own house starts with choosing the right design. There are many architectural styles to choose from, and one may resonate with you more than another. A few examples include farmhouse, traditional, contemporary, and modern. While each features bedrooms, bathrooms, living spaces, and a place to eat and cook, their lines and overall design may be completely different.
Size
The best part of partnering with a custom home builder in Nashville is that you can have a house any size you want. Whether you want a tiny shipping container home or sprawling spaces for a large, blended family, it's up to you. What's important is that you find the right balance of space that your family can share and make sure that it's maintainable.
Floorplan Software
Even if you're not a designer, your custom home builder may be able to help by showing you floorplan software. These programs are user-friendly and let you create a brand-new floorplan from the ground up. You can experiment with different layouts, and you can even see your idea on your screen in 3D. Popular options include AutoCAD, SketchUp, and RoomSketcher. Ask your homebuilder for their recommendation.
Functionality
Functionality should be the core of your design. Reflect on how you and your family plan to use each space. How do they flow together? Are the rooms large enough to accommodate each individual person's idea of the perfect space? Think about where bedrooms are placed. How accessible the bathrooms are, and how easily accessible your common areas are. Your design concept should optimize natural light, storage, and togetherness.
Efficiency
Another perk of using a custom home builder is that you can choose architectural designs and features that make your home energy-efficient. LED lighting, solar panels, and smart home technology are just the beginning. Your home builder can help you reduce your environmental impact, which has the added benefit of reducing your overall cost of homeownership.
Designing your own home begins with an idea and ends with you going to bed each night in a space you can truly call your own. It is not an overnight process, and you can expect that it will be about a year (or more) before the deed is in your name. But having a house built just for you and your family means that you have more than a house, you have a home, and you get to see your idea in real life.
Providence Builder Group is a Nashville-based homebuilder and home renovation team that works closely with home and property owners wanting a truly customized space to call their own. From IFC construction to shipping container homes to historic home renovations, additions, and more, Providence Builder Group has the experience and expertise to complete projects of all sizes. The locally-owned company also offers custom, traditional homes, and tornado shelters. Founded by Will Barron, Providence Builder Group is the product of his dedication for his community and serves as a testament to what happens when hometown pride enters the construction industry.